Tracy Bell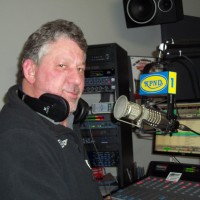 TRACY BELL – WEEKENDS
Though Tracy was born in Houston, he was still an infant when his family relocated to San Diego.  They lived in Southern California until Tracy was eight, then they packed up the station wagon and moved to Idaho.  He's been in the Inland Northwest ever since.
After stints as a bartender and restaurant manager, Tracy got his first radio job in Moscow, ID. Throughout the years, you've probably heard him on ROCK 106, KKZX and The Buzzard, before coming to KPND.  Though Tracy only works on-air on the weekend, he is also a part of our stellar sales staff.  (He wants you to know that if you need advertising, you should call him first.)
Besides having a "soft-spot" for anything furry (we're talking cats & dogs), Tracy likes hard rock, heavy metal and the Blues.  He's also a big Raiders fan, collecting their memorabilia.  And being a former bartender and one who likes his "liquid refreshments" from time to time, Tracy also collects barware and shot glasses.
Some of Tracy's favorites include the TV shows Breaking Bad, Walking Dead and Justified.
To contact Tracy, email him at tracybell@blueskybroadcasting.com
[episode id=306]