Marie McCallister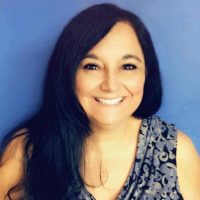 MARIE McCALLISTER – PROGRAM DIRECTOR/EVENINGS
Born and raised until her teen years in LA and Orange County in Southern California, Marie reluctantly moved to Spokane with her parents and siblings when she was 17.  It was hard for a teenage, beach bum to leave the sun and beach for cold and snow.
During her high school days at West Valley, Marie worked a few restaurant jobs in Spokane Valley and then attended the Ron Bailie School of Broadcast, where she was offered her first job at KWAL in the Silver Valley (North Idaho).  From there, she's been very nomadic with radio gigs in Lewiston/Clarkston, back to Spokane, where she worked for KREM and KJRB, then to Seattle's KISW.  While in Seattle, Marie took a second job working retail at the Wherehouse Record Store chain.  She transferred to a Los Angeles location, where she ended up staying with the company for eight years.  She also worked for a very popular heavy metal station in LA…KNAC FM, for five of those eight years.  After that, Las Vegas, Indianapolis, Pocatello, Bend, and then back to Spokane, where she worked at The River, before heading north to KPND.
Marie is our resident "Crazy Cat Lady".  She has a couple…maybe more, we lost count.  One of her hobbies is going to yard sales, finding some vintage item for a quarter and reselling it for $100.  She's still waiting to find that one painting masterpiece worth millions!
Marie is very passionate about music and radio.  Some of her absolute favorite artists include Led Zeppelin, Tom Petty, Aerosmith, early Elton John, U2, Great White, Don Henley/Eagles, Heart, Sammy Hagar and Hall & Oates (don't judge).
To contact Marie, email her at mariemccallister@953kpnd.com.
[episode id=306]