Uncle Larry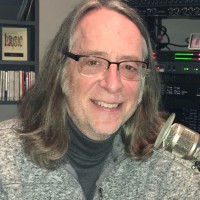 UNCLE LARRY – AFTERNOONS
Uncle Larry was born in Rapid City, South Dakota into a military family.  They moved about every four years or so to various places throughout the US and Europe.  Eventually, his dad was transferred to Fairchild and Larry's been in the Spokane area ever since.
Before getting his first gig in radio, (and before he became "Your Uncle Larry"), he worked carpenter jobs and did custom body and paint for cars and motorcycles.  That first radio station job was here at KPND, back in 1983.  He has come full-circle since, having worked at KREM FM, ROCK 106, The Peak, The River, KKZX and then back to KPND.
Larry is really into motorcycles!  He "collects" vintage motorcycles, motorcycle magazines and loves going to car & motorcycle shows.  His favorite band is The Tragically Hip, though he really likes 90s music and tunes from the Big Band Era too.
Uncle Larry is probably a lot like your actual uncle…he loves to BBQ on the weekends.  He loves dogs, the Seahawks, Clive Cussler novels, working on motorcycles and watching shows on the Velocity Network.
To contact Larry, email him at unclelarry@953kpnd.com.
[episode id=306]