Vic Frederick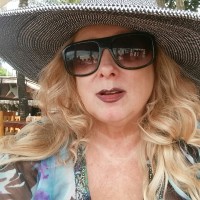 VICTORIA FREDERICK – NIGHTS
Vic has a thing for SCI-FI and believes everyone has a super power.  In her case the ability to talk…about anything and everything, a talent that has served her well throughout her career.
She's done everything from dancing and co-hosting segments on DICK CLARK'S AMERICAN BANDSTAND to being a DJ at a legendary jazz station in San Diego, KDIG, hanging out with Jazz greats George Duke, Nate & Cannonball Adderly and others.  She also worked with Carl Sagan on a PBS Television Science Series, before coming back to her hometown, Spokane, to work at KXLY-TV, doing Dialing For Dollars. She was then spirited back to radio to work for the revolutionary AOR station, KREM-FM in Spokane.
But when KBPI in Denver called, she left for the Rocky Mountains, until an enticing offer from KATT in Oklahoma City lured her to the dust bowl, (that was a hard sell).   When KZOK in Seattle called, she jumped at the chance to get close to the mountains again,  starting as a DJ, but was the News Director on the air when MT. ST HELENS blew.  Her first child came a little over 9 months later, (they called them the "ash babies".)  Vic has worked at some of the top stations in the country, but when it came to raising her kids, she headed home to Spokane, where C. Foster Kane at KKZX hired her to be VIC AT NITE.  She was on the air filling in for THE RADIOMEN during 9/11 watching the second plane hit while doing show prep.
She worked there until  2012, except for a two-year stint as Program Director of THE BUZZARD.  KKZX wanted her back and hired her as Program Director and on air talent.  After all this though, it occurred to Vic that what she really enjoyed the most was being a disc jockey.  And that's what she's doing now…"'LIVE" radio, (something rare these days) for a great company and radio station KPND, rockin' the Inland Northwest.
To contact Vic, email her at vicfrederick@953kpnd.com.
[episode id=306]