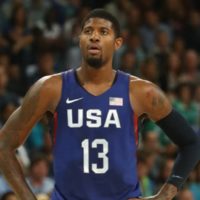 The LA Clippers announced on Tuesday that they are extending Paul George's period of rest for a torn ulnar collateral ligament in his right elbow.  The Clippers will see how his elbow responds to determine his timetable for return.
Back on Christmas Day, the Clippers initially said George would be evaluated for the injury in three to four weeks. The seven-time All-Star hasn't seen the court since Los Angeles beat the Kings 105-89 on Dec. 22.  George was averaging 24.7 points, 7.5 rebounds and 5.5 assists per game on the season prior to the injury.
The Clippers have gone 5-8 in George's absence, and are also playing without Kawhi Leonard, who is rehabbing a torn ACL in his right knee for the entire season.
Editorial credit: Leonard Zhukovsky / Shutterstock.com