Alan Hill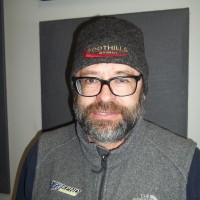 ALAN HILL – WEEKENDS
Alan Hill was born in Moscow, Idaho…the oldest of five.  He and his family were avid skiers, always had Schweitzer season passes and formed some great memories there on the slopes. Having lived throughout the area, from Boise to Yakima, Sandpoint to Spokane, Alan has worked a variety of jobs to take care of his wife and two kids.  Some of his most interesting occupations include being a Spanish Language Interpreter and Television News Producer.
Alan supports and advocates programs for people with disabilities, socially, recreationally and vocationally.  He also supports programs for disenfranchised youth, volunteering as coach for baseball, basketball and football when possible.  Alan is also passionate about politics.
On the subject of politics, Alan's secret talent includes pretty convincing impressions of Donald Trump and Bill Clinton.  He says he can also do a pretty good impression of Uncle Larry too, but no one's heard that yet.
When Alan's not here on Saturday for his weekend shift, he is most likely watching some obscure sporting event on cable TV.  He's a big fan of Gonzaga Basketball, Boise State Football, the Denver Broncos, OKC Thunder and the Seattle Mariners.  He also likes to spend time with his family, when the weather is cooperative, at his getaway home on Lake Pend Oreille.
To contact Alan, email him at abashaw21@mail.com.