Pat Murphy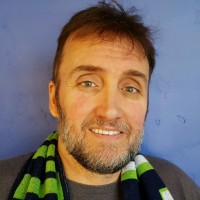 PAT MURPHY – NIGHTS & WEEKENDS
Pat spent part of his childhood in northeastern Pennsylvania, then after his parents divorced, a move to Montreal, Canada…where they speak French.   Yes, Pat speaks fluent French, "voulez-vous la ketchup avec vos frites?"
Before becoming the night guy and Beatles host on KPND, Pat worked at North Idaho's Rock 106.7.  He also spent some of his early working years doing media promotions for the World Wrestling Federation.
Pat likes spending time with his wife and four kids.  He enjoys his reality TV, but don't take away the remote when the Seahawks or the Montreal Canadians are playing.  Of course, you can change the channel when he's watching the History Channel or National Geographic, because he'll most likely be snoozing on the couch.
Musically, Pat is easy to please.  He loves the music of KPND, especially tunes from the 70s and 80s.  Some of his favorite albums include Led Zeppelin IV, Michael Jackson's Thriller, The Rolling Stones' Sticky Fingers and the Saturday Night Fever Soundtrack (huh?).   And if you ask nicely, Pat will be more than happy to break out his version of Stayin' Alive at the 219 Lounge, where he hosts their karaoke night every Tuesday.
To contact Pat, email him at patmurphy@blueskybroadcasting.com.